Selecting wallpaper for your tiny tots can be both an exciting and a little challenging task. With a myriad of wallpaper options available, involving your child in picking the wallpaper is critical, as it's important to choose a theme that speaks to their interests and fuels their imaginative play.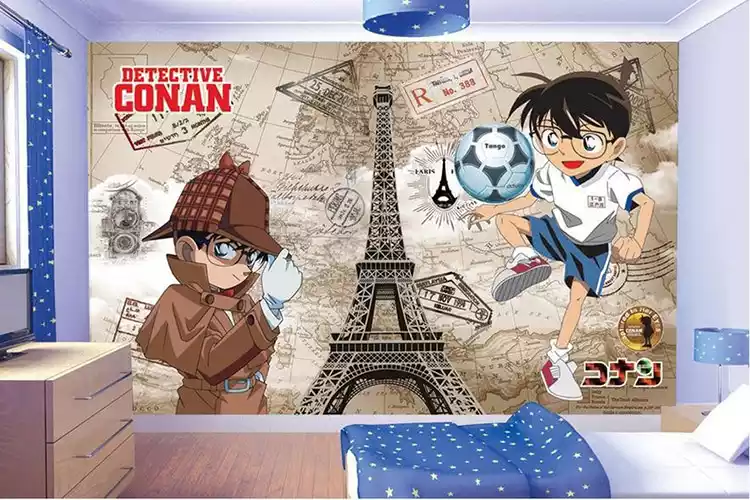 For instance, picking a cartoon character-based wallpaper might evoke joy and a playful mood. Watch the happiness unfold as your child's room transforms into a scene from theri beloved animated series. You can also go for fantasy-themed wallpapers such as a magical castle, fairies, or dragons if it piques your child's interest. With the right tones and design, you can create the perfect ambiance for your kids' bedroom. And if you want to bring in nature-themed inspired wallpaper, then there is a selection of wallpapers that would look perfect in a kids room. These wallpapers include themes and patterns of jungle, waterfall, mountains, flowers, animals, etc., evoking a sense of awe and wonder in your child.
Even while going for a revamp, many parents explore kids' wallpaper designs over paint, as the latter doesn't give much room for creativity. Plus, wallpaper installation and removal in a child's room is much easier and hassle-free than painting. So, without further ado, let's look at some wallpaper ideas and designs:
Wallpaper Ideas for Kids Bedroom:
3D Modern Wallpaper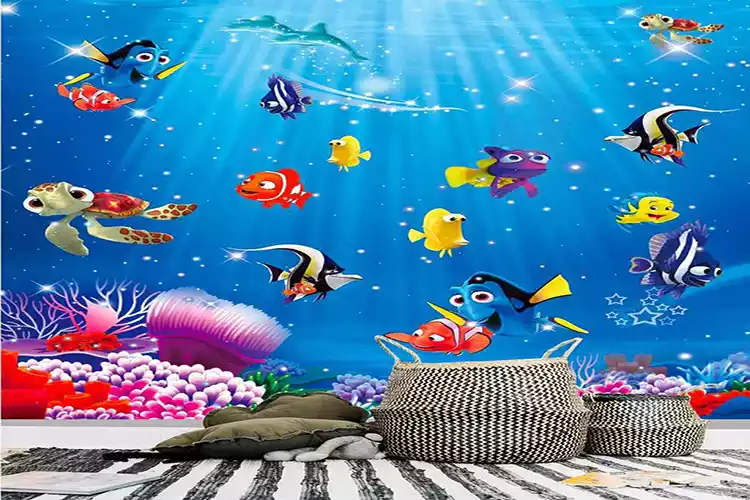 Bring alive the walls of your child's room with 3D modern wallpaper. Imagine having a secret door to a new world or a Transformers character featured on the wall of your child's room. With 3D wallpaper for the kids room, the possibilities are endless.
Castle Wallpaper for Kids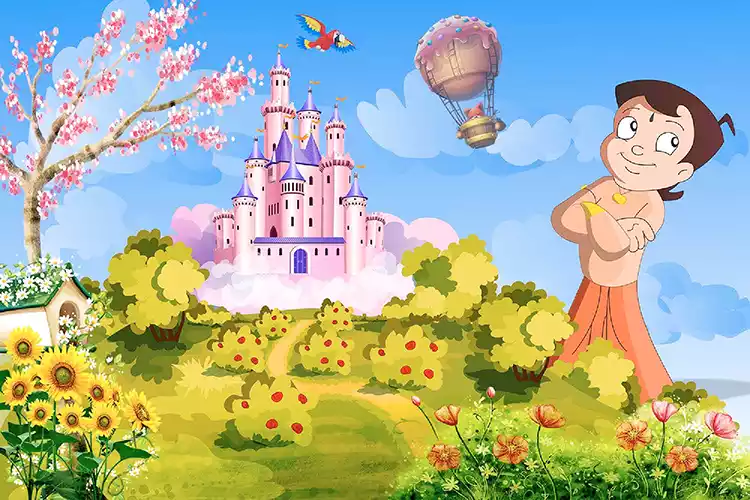 Turn your kids room into a fantastical wonderland with castle-themed wallpaper. These majestic castles nestled in the natural world evoke a sense of wonder and curiosity in your child. Browse our collection of kids wallpapers or get them custom-made.
Magical Cute Fairy Wallpaper for Girls Room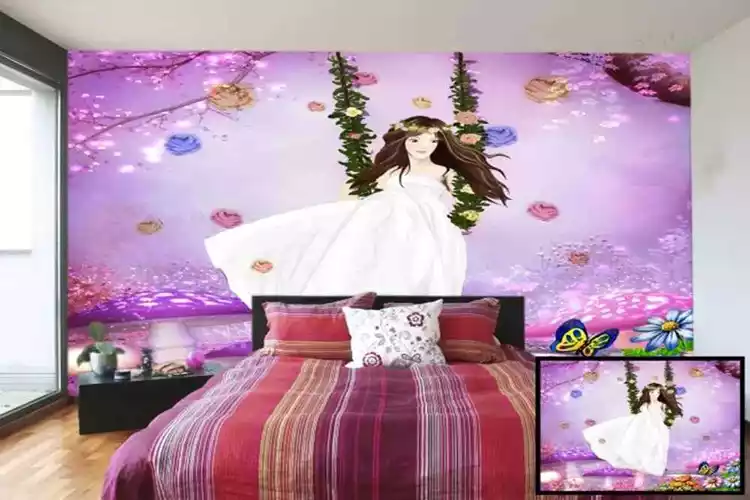 While looking for cute wallpapers for a girl's room, consider fairy-themed wallpaper. The soft, innocent, and feminine visuals of the wallpaper will add a touch of elegance and grace to your daughter's room.
Jungle Themed Wallpaper for Kids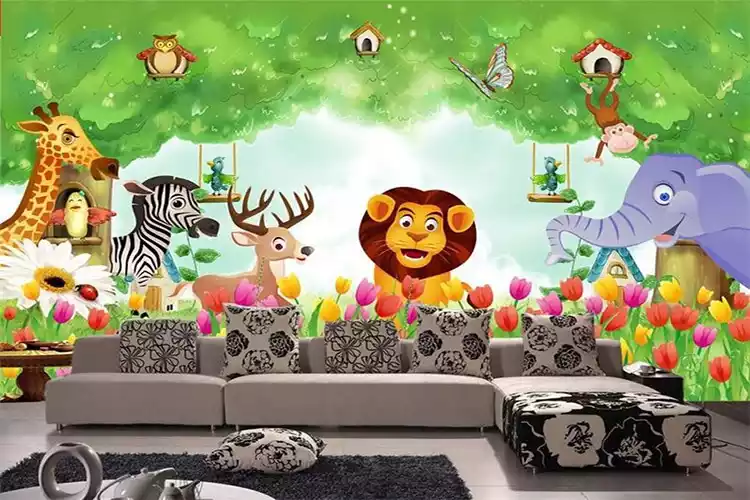 Think about a whimsical jungle with cute animals, trees, and gushing waterfalls. This imagery of the natural world as the backdrop of your child's room elevates its charm instantly.
Disney Characters Wallpaper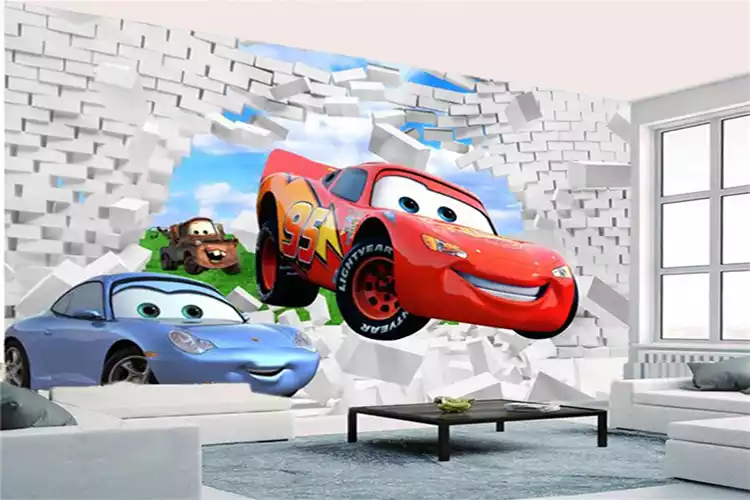 If your child is a fan of Disney characters, browse wallpaper featuring their favourite characters or get them custom-made. It could be The Little Mermaid or Disney Cars; the options are endless.
Moon and Stars Wallpaper
Make your child's room shine with endearing moon and star wallpapers. A perfect place to install these wallpapers would be on the ceiling, which would give the illusion that they are sleeping under the stars. This will help your child channel their inner curiosity and make bedtime a little more relaxing, knowing they are sleeping.
Universe and Outer Space Wallpaper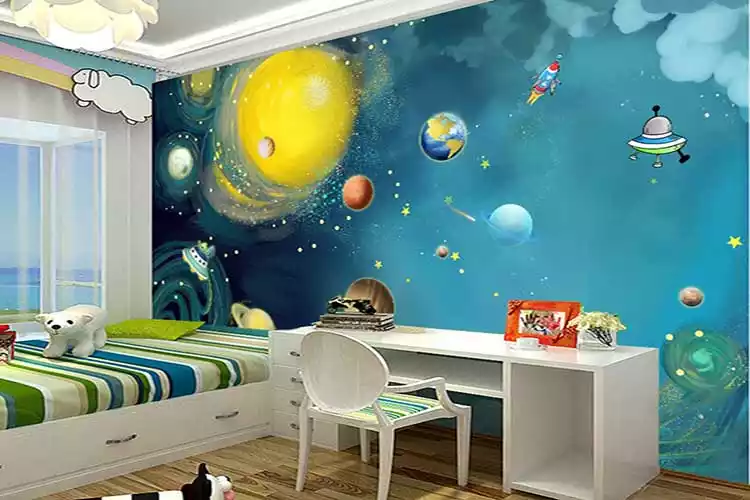 Does your child have a curiosity for all things outer space? Surprise them with an adorable wall covering featuring the solar system with the sun, planets, and rockets. You can even get ideas from them and create a customised wallpaper design for your child's room.
Anime Wallpaper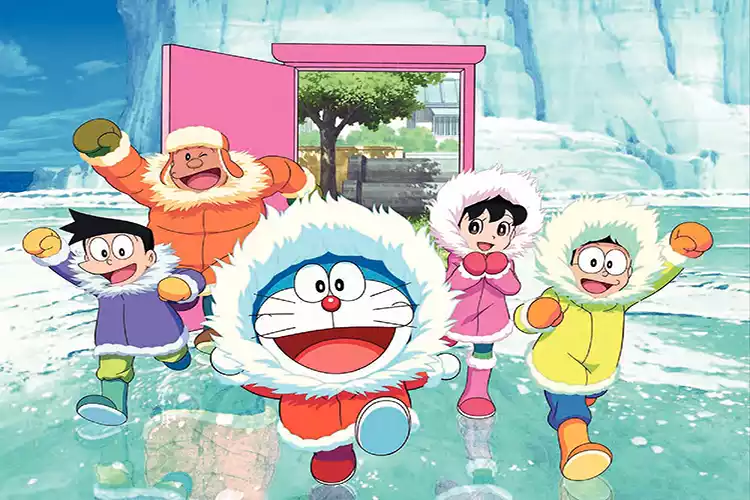 Is your kid an anime buff? Then they'll surely like to see their favourite characters featured on their bedroom walls, such as Doraemon, Shinchan, or Goku from Dragon Ball Z. You can also imprint any famous dialogue or tagline of their favourite anime characters, as custom wallpaper options are always available.
Tips While Browsing Kids Wallpaper Designs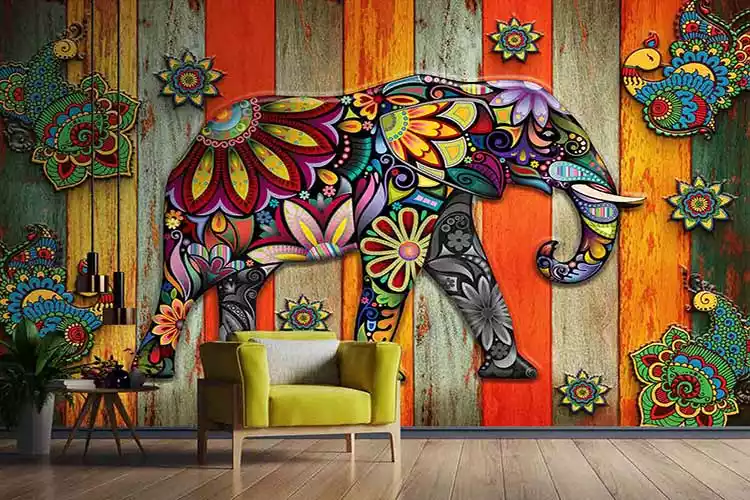 When it comes to selecting kids wallpaper designs, there are certain things you must keep in mind before making the final purchase. Please read below:
Always involve your child in the wallpaper selection process and prioritise their interests and tastes. This will make them feel included and make the room uniquely theirs.
If your child has a fickle taste in wallpaper designs, consider peel-and-stick wallpaper. They are easy to remove and install, and they do not cause any damage to the walls.
Your child's health is paramount, so make sure to buy wallpapers that are made from toxic-free materials and are eco-friendly.
You can also incorporate educational elements such as tables, alphabets, or maps as per your child's age and understanding.
Look for kids wallpapers that are superior in both quality and design.
Make sure the wallpapers are both durable and washable. Such wallpapers will be protected by the daily wear and tear, and it will be easy to clean them. Durable wallpapers for the kids room would save you both time and money.
Go for a cohesive wallpaper theme for your child's room. For example, a princess-themed room or a jungle-themed room This helps the room have an orderly appearance.
Be mindful of the tones of wallpaper that you select. The dark tones can make a large room look cosier, while soft and pastel shades can make a room look brighter and bigger.