India is known for its vibrant, diverse and colourful culture, which is reflected in the use of wallpaper in Indian homes. Indian celebrities and interior designers often use bold and intricate patterns, as well as bright and bold colours, to add character and personality to their luxurious living spaces.
You can check our Customized wallpaper .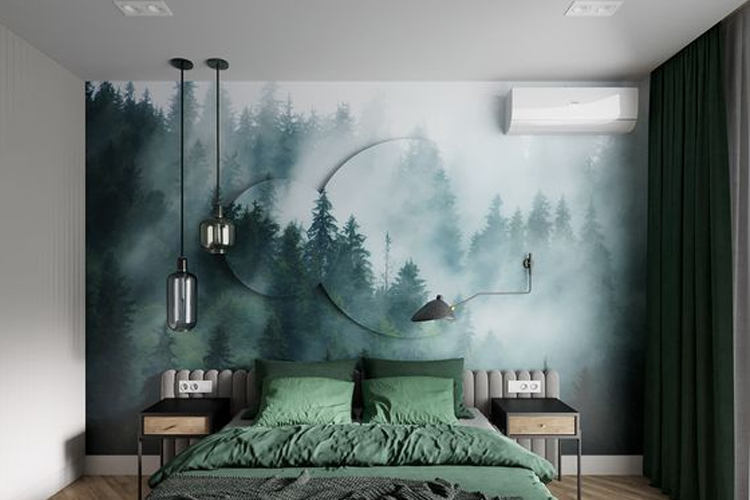 Do you want to take wallpaper inspiration from Indian celebs and Interior designers? Read on.
One celebrity known for her bold and colourful wallpaper choices is Bollywood actress and interior designer Twinkle Khanna. In her Mumbai home, Khanna used bright red and gold wallpaper in the living room to create a dramatic and opulent atmosphere. She also used a colourful and intricate paisley (an ornamental design) pattern in the bedroom to add a touch of whimsy to the space.
Interior designer Sussanne Khan is another fan of using wallpaper to add interest and personality to a room. In a project for actor Hrithik Roshan, Khan used a bold black-and-white geometric pattern in the living room to create a contemporary and chic look. She also used colourful floral wallpaper in the dining room to add a touch of femininity and playfulness.
Actress and fashionista Sonam Kapoor indeed has a unique eye for all things glamorous, whether it's her sartorial choices on the red carpet or selecting gorgeous wallpapers for her home interiors. Kapoor has played with different wallpapers designs in her luxurious Notting Hill home. In her dining room, she incorporated the hand painted tropical de Gournay wallpaper. In addition, Kapoor used a muted yellow tone with prints inspired by feminine floral patterns and the Savannah for her living room. So if you love glamorous and antique looks, draw inspiration from Sonam Kapoor's style and choose wallpapers with the above-mentioned details.
Another Indian celebrity to draw wallpaper inspiration is none other than Deepika Padukone. Known for her graceful and sophisticated style, try using wallpapers with bold floral or geometric print in shades of blue and orange, like some of her sartorial choices she has been seen wearing. In her new Mumbai home, she incorporated wallpapers reflecting her style. She used off-white wallpaper with big and bold indigo floral prints in a pale colour tone. The wallpaper gives out a simple yet chic and classic look. It will also look suitable in small rooms. So feel free to draw inspiration from her wallpaper choices'.
Last but not least, you can draw inspiration from actor Shah Rukh Khan's Delhi home designed by Interior designer and spouse Gauri Khan. If you're a fan of the classic, suave style, wallpaper with a subtle stripe in a neutral colour palette would be a great choice. It will also suit your taste if you like minimalist trends. Gauri Khan used subtle designs in the wallpaper patterns, using beige stripes on an almost nude off-white colour pattern.
We hope you got an idea of what wallpaper designs celebrities and interior designers use to give their home interiors a sophisticated, chic, and classic look.
Indian celebrities and interior designers often use wallpapers as a way to add finesse to their homes. Of course, you can also give a twist to the above ideas and your own ideas, but make sure to create a coherent visual spectacle for the interiors of your home and office.