Many people give meticulous attention to their interior décor while designing their homes, and guess what? Your bedroom space deserves just as much attention as other living spaces. After all, it is your haven where you spend your time after a long, tiring day.

Wallpapers are an essential part of interior décor; therefore, you must be aware of the top trending bedroom wallpaper designs currently dominating and will continue to do so in the coming time. These bedroom wallpapers are perfect for expressing your individuality and personality through your walls. In addition, they will provide much-required comfort and uplift you on a dreary day.
Here are some top trending bedroom wallpaper designs to keep an eye on:
1) 3D Wallpaper Design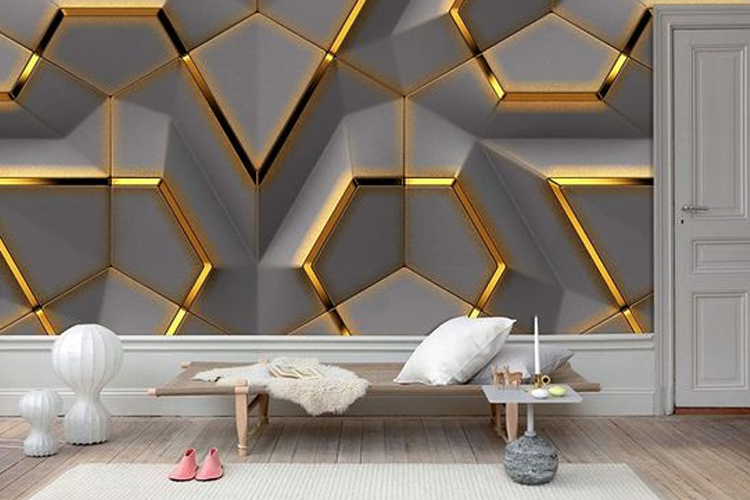 Earlier used primarily in the living room areas, 3D wallpapers have also found their way onto the walls of your bedroom. If you like to keep a bold yet dapper design in your bedroom, consider the fantastic selection of 3D wallpapers. They will immediately enrich the face of your bedroom. Pro tip: Keep your furniture simple so that it fits agreeably with the rather dramatic look of the wallpapers.
2) Personalised Design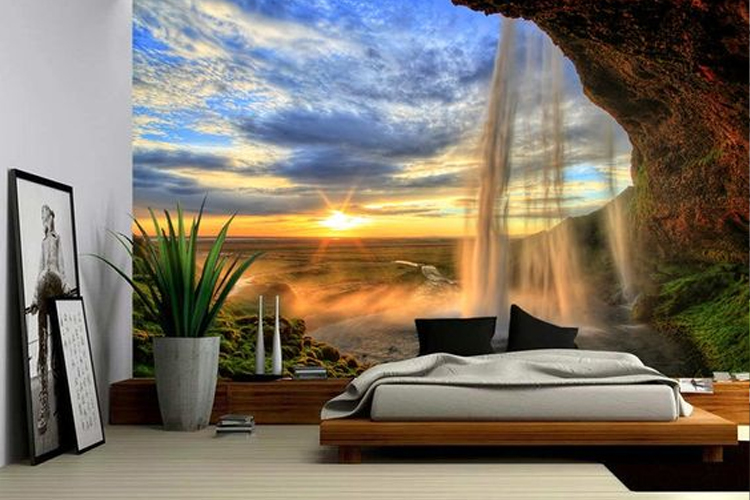 Many customers opt for personalised design ideas for their bedroom wallpapers. For example, an inspirational quote from your favourite athlete in a dark shade adorned on the neutral-toned wallpaper gives a wonderful juxtaposition on your bedroom walls. Imagine waking up to something so motivational every day. This is just one example; it could be your favourite painting style, poem, etc. This trend is becoming more and more popular with each passing day.
3) Mural Wallpaper Design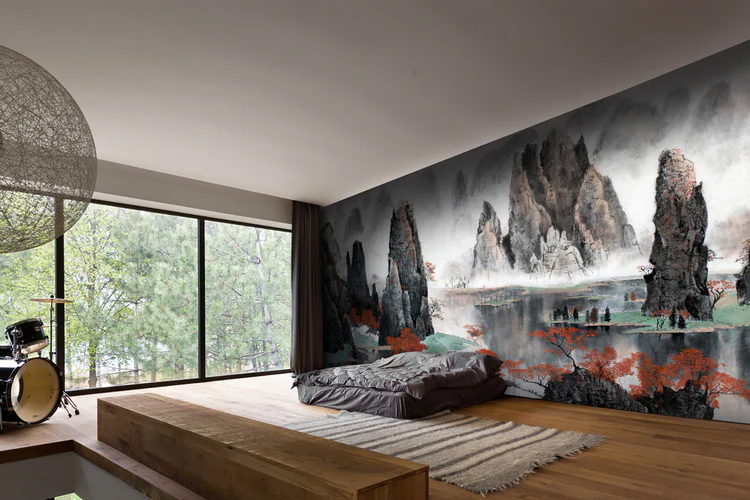 Mural wallpapers are gorgeous digital prints of high-quality photography, typically of a single design. It is an ideal choice for people who believe in maximalist trends. As a result, they have emerged as some of the most sought-after wallpaper bedroom designs. These wallpapers capture the attention of the sight and give your bedroom a distinctive look.
4) Baroque Design Wallpaper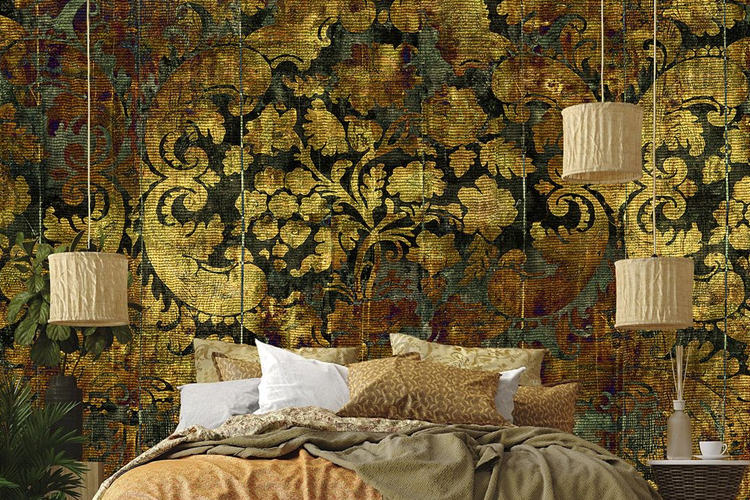 Baroque refers to a style of art and architecture that thrived in early 17th-century Europe. Baroque design refers to embellishments, ribbons and decorative arrangements with flowers and vines. And Baroque-styled wallpapers are becoming some of the most sought categories in bedroom wallpaper designs. Earlier, they were thought to be best suited for living rooms but also make an excellent choice for bedrooms, giving them a regal and opulent look.
5) Bold Pattern Design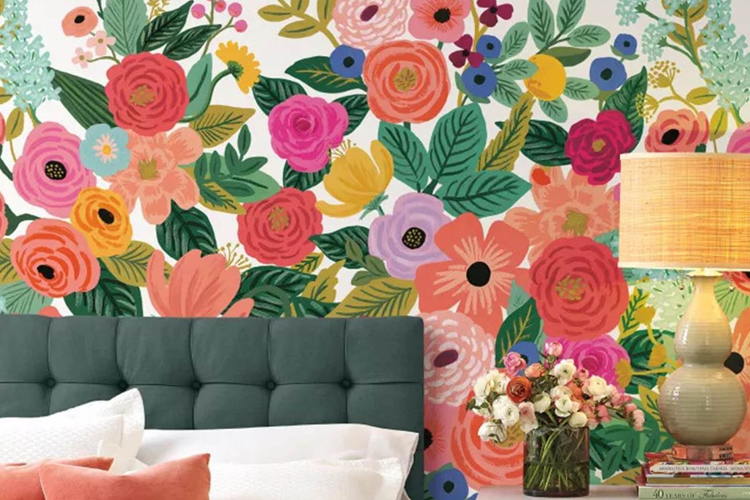 Maximalism will be a big trend in the future, and this trend is also sneaking its way into interior décor. So, if bold designs do not overwhelm you, give a chance to the bold patterned design of wallpapers for your bedroom. You can select any motif or symbol that resonates with you – a flower or a recurring pattern of an ornamental design and watch your walls come alive.
6) Monochromatic Wallpaper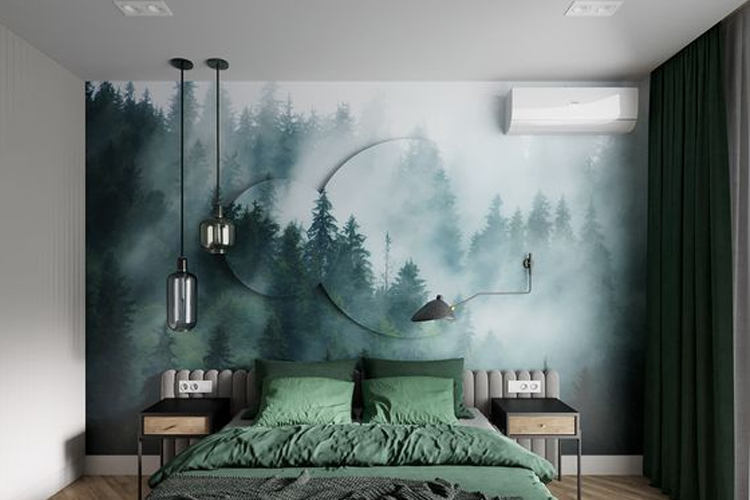 Monochrome refers to a single tone or shade. Thus, monochromatic wallpapers are single-coloured wallpapers. If you are ditching the idea of painted walls and manoeuvring into the world of wallpapers for the first time but are too afraid to select a bold design, go for monochrome wallpapers in your bedroom. They are perfect for beginners and cost much less than paint.
7) Abstract Design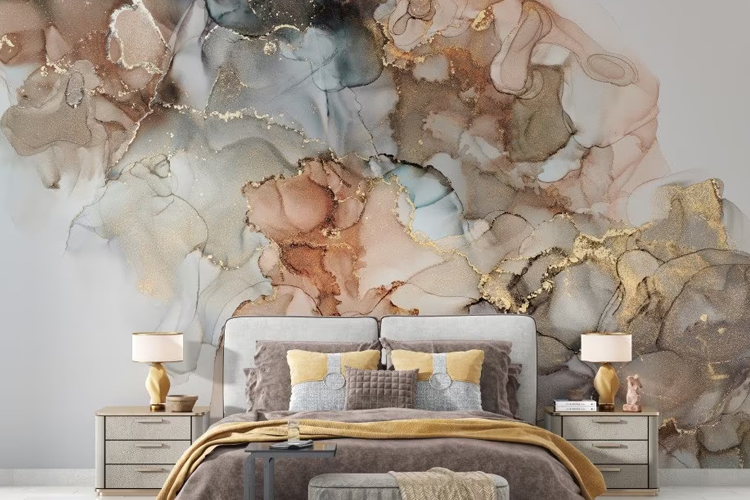 Wallpapers with abstract designs defy any rigidity. They are free-flowing universal designs which give room to experiment with colour and composition. You cannot box them into a particular category. Does the idea of this wallpaper resonate with your personality? You may know what wallpaper you want to select for your bedroom next time you decide to redesign your bedroom. Abstract wallpapers come in a plethora of designs and colours. Therefore, you have a variety of options to choose from the list of wallpapers.
8) Striped Pattern Design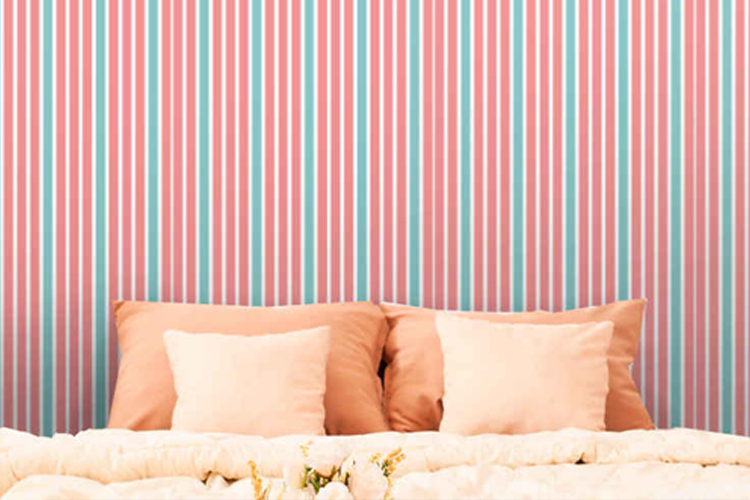 Striped wallpapers, as their admirers say, can never really go out of style. These wallpapers have been an absolute classic pick since Victorian times. The stripes can be horizontal, vertical or diagonal; they can be thick and thin depending on your bedroom size. If you have a small bedroom, go for vertical and thin stripes to give your bedroom a tall-standing look. Save the thick stripes patterns for big bedrooms like a primary bedroom. And no, you don't have to restrict yourself; you can be playful with colours.
9) Pastels Shaded Wallpaper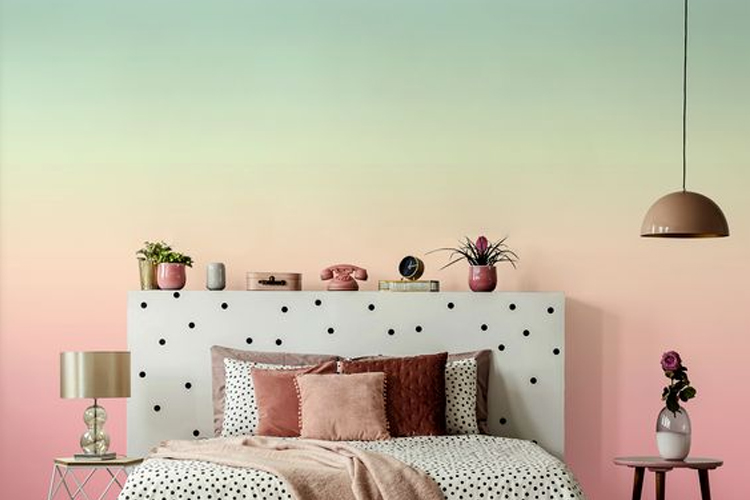 If you want your bedroom walls to radiate chic and feminine energy, go for soft pastel shades of pink, purple, lavender and blues. Purple is a crucial colour used in many décor trends and ideas. As a result, your bedroom walls will look more blooming and radiant. Pastel-coloured wallpaper is also an excellent choice for small bedroom spaces as they make the room look ampler.
10) Tropical Summer Vibes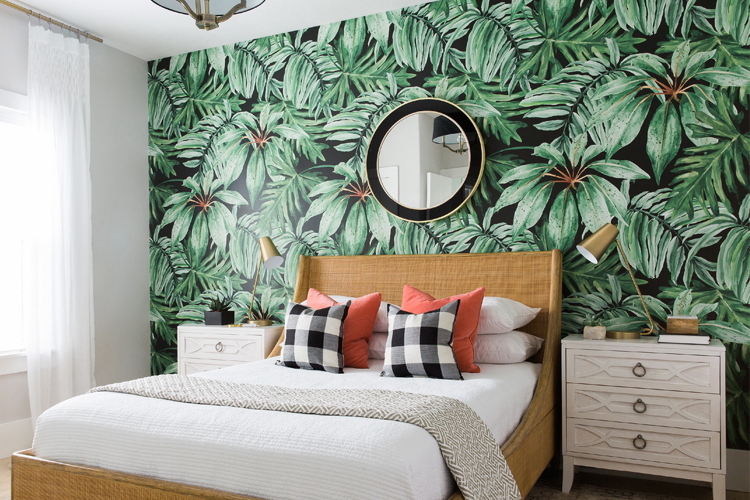 Recently, this design is also trending and becoming a favourite amongst many customers. Wallpapers with tropical summer vibes give you the illusion that you are on a fun vacation with greenery splattered across your bedroom walls. If you are a nature lover and want to incorporate a tropical touch with vibrant colour and design, pick such designs for your bedroom wallpaper.
11) Timeless Floral Design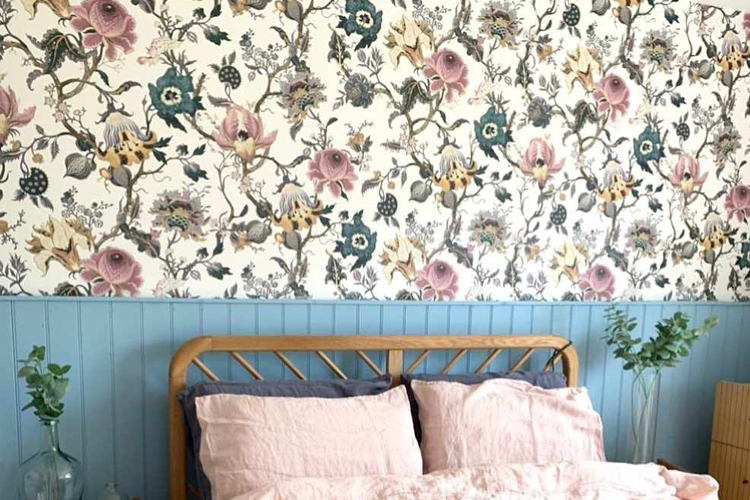 Floral designs on wallpapers will be forever on the trending list of wallpaper designs. The floral motifs on your bedroom wallpapers will give you a classic look. You can choose big and bold floral patterns or go for small recurring floral designs with branches and leaves falling out on monochromatic wallpaper. The wall design receives a floral charm with them, conveying life's vitality and bliss. They can appear playful or natural and are assured to make you feel good.
12) Vintage Design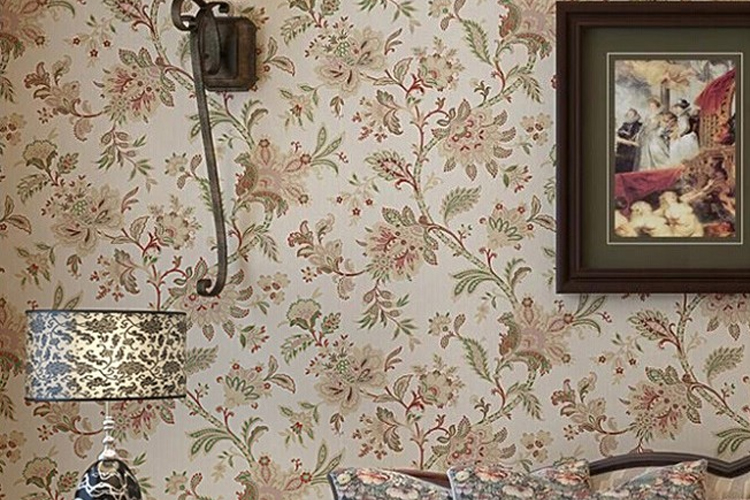 A perfect call back to the styles of the 60s and 70s, vintage wallpaper is a hot trending bedroom wallpaper design. They exhibit a theme, pattern, and design and exemplify an era gone by. So if you are inclined to an old-school charm and vintage vibes in your bedroom, opt for Vintage designed wallpapers.
13) Geometric Design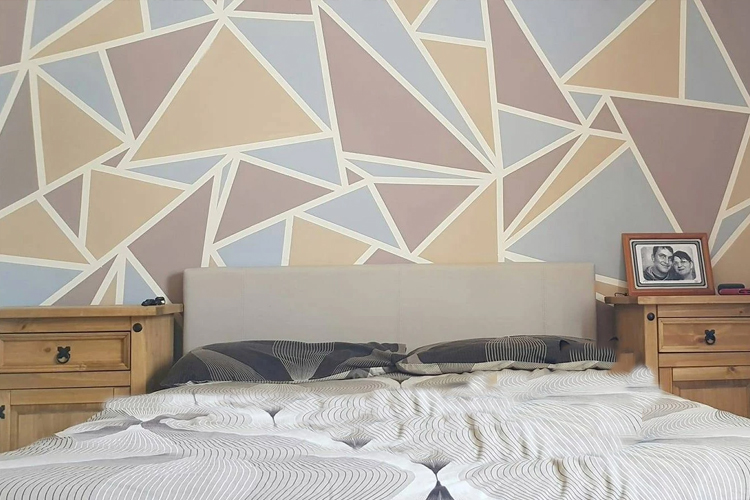 Geometric wallpapers are timeless and stay very much in trend, whether with a delightful diamond pattern or circles and squares. The geometric designs are so dynamic and versatile that they look great not just in your bedrooms but your living room, study room, kitchen etc. They also give out a 3D look with all the recurrent lines and symmetrical patterns and look outstanding on your walls.
14) Marble or Brick Design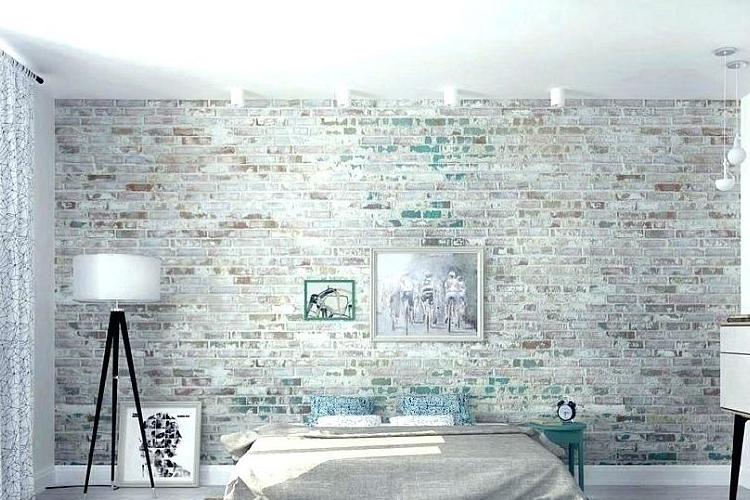 If you want a wall that stands out, go for marble or brick-designed wallpaper. They can instantly enhance the appearance of your bedroom wall. They tend to give a three-dimensional look, making the wallpaper look like a natural stone/brick wall. You can choose from various colours like grey, beige, white, red, charcoal and graphite. Each colouring will give a distinguished vibe to your bedroom altogether.
We hope you have an idea about the trending wallpaper bedroom designs and which would suit you. So, get in touch with us and transform your bedroom wallpaper with SNG Royal.