Explore the wonderful world of waterproof wallpapers, the stylish solution to protecting your walls and transforming your home. From practicality to aesthetic appeal, find out all you need to know in this handy guide.
What is Waterproof Wallpaper?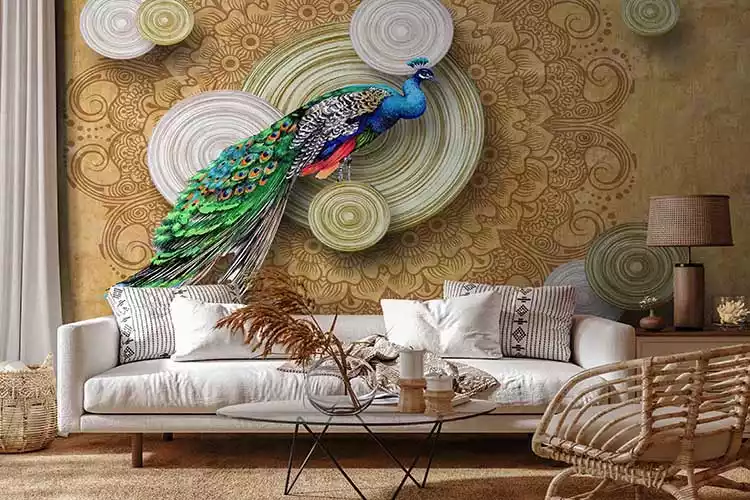 Waterproof wallpaper might sound straightforward, but the innovation and technology behind it are more intricate than you'd think. Essentially, it's wallpaper with a specially designed waterproof coating. This can either be a modern adhesive compound or a durable vinyl layer, specifically designed to repel moisture and protect your walls from water damage. The result? A wallcovering that is not just stylish but also saves your walls from the ravages of damp and moisture.
Advantages of Using Waterproof Wallpaper in High-Moisture Areas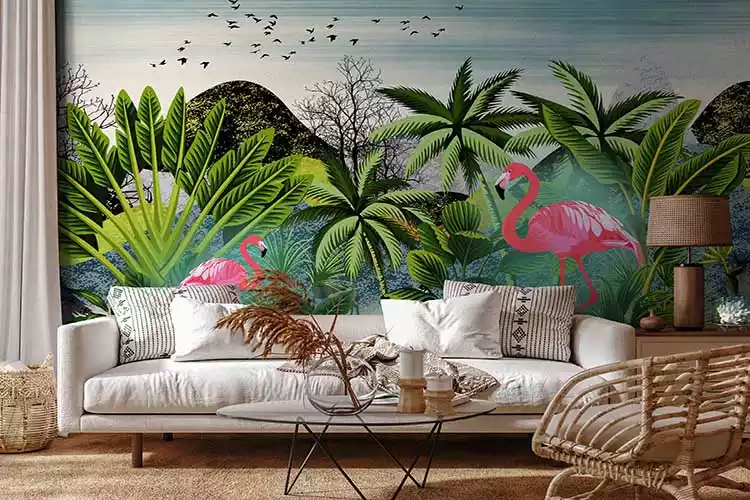 Easy to clean: Waterproof wallpaper is a breeze to keep clean. Forget the arduous task of scrubbing grout lines on tiles – with waterproof bathroom wallpaper, a simple wipe down is often all that's required.
Creativity and versatility: Transform your bathroom or kitchen with fresh new designs whenever the mood takes you. The extensive array of waterproof kitchen wallpaper and waterproof bathroom wall covers designs and patterns available online means you can keep updating your interiors with ease.
Simple installation: Waterproof wallpaper is designed to withstand even the dampest areas of your bathroom or kitchen, so you're not limited by where you can use it.
Elevating Your Interior Design with Stylish and Functional Waterproof Wallpaper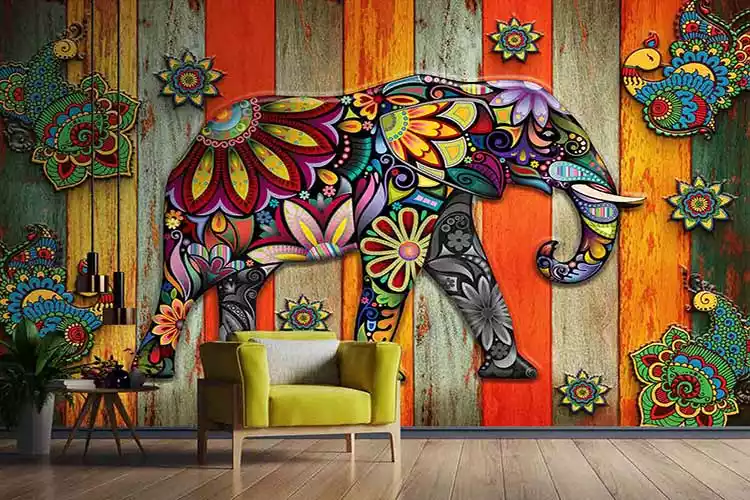 Create a stunning feature wall: Waterproof wallpapers are not just practical, but also incredibly stylish. They can easily turn any dull bathroom or kitchen wall into a beautiful feature wall that grabs attention.
Cover imperfections: Waterproof wallpaper with patterns and textures can effectively camouflage wall imperfections, cracks, or lines, instantly upgrading the overall look of the room.
Half and half design: Fancy a bit of tile work along with wallpaper? No problem! Consider the popular half-wall style. The bottom half of the wall can be tiled, with the top half adorned with your chosen waterproof wallpaper design.
Transforming Outdoor Spaces with Weatherproof and Long-lasting Wallpaper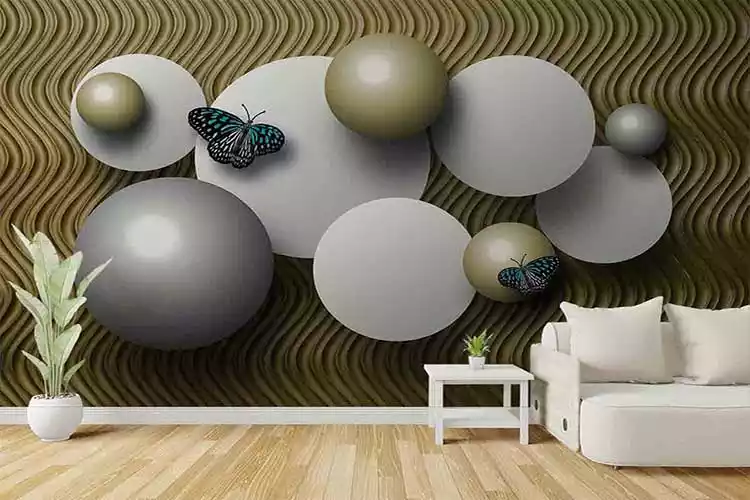 Believe it or not, waterproof wallpaper is a fantastic option for outdoor spaces too. Designed to be fade-resistant and weatherproof, they are ideal for livening up garden walls, patios, or even an outdoor kitchen.
Cleaning and Maintenance Tips for Your Waterproof Wallpaper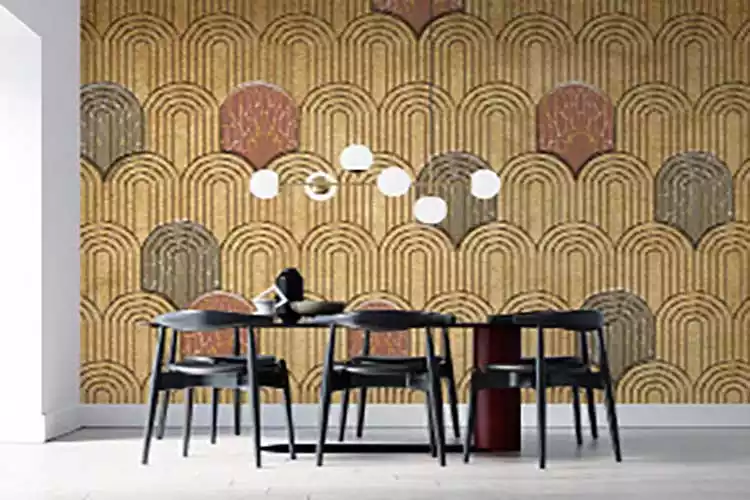 Cleaning and maintaining your wallpapers can add years to its lifespan. Here are some tips you can easily follow:
Most waterproof wallpapers can be cleaned easily with warm water and a mild detergent.
Rinse the wallpaper with a clean sponge after washing and dry it with a lint-free cloth to keep it looking as good as new.
For stubborn stains, you can use a dry cleaning sponge or try home-made cleaning solutions like a mix of cornstarch and water.
For more such tips, also read: 5 tips for caring for and maintaining your wallpaper at home
Adding Life to Your Spaces with Waterproof Wallpaper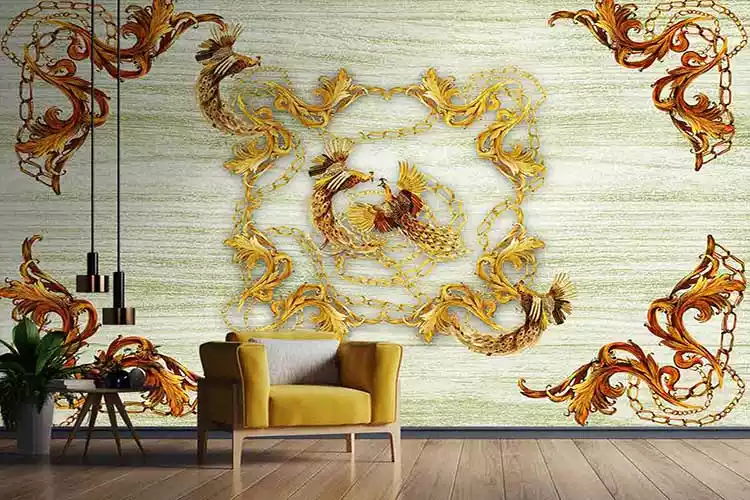 Waterproof wallpaper isn't restricted to just kitchens and bathrooms – the possibilities are endless. You can use it to spruce up your laundry room, basement, or even your outdoor spaces. Areas of your home that are prone to high humidity or potential water damage can greatly benefit from waterproof wallpaper.
Laundry Area: Laundry area is often overlooked when it comes to design. With the various styles of waterproof wallpaper available, you can bring this space to life, all the while protecting your walls from moisture and dampness.
Basement: Basements often face issues of dampness and lack of light. Opt for a waterproof wallpaper in a bright and cheerful design to help combat these issues and create an inviting space.
Kitchen: Waterproof wallpaper can transform your kitchen from ordinary to extraordinary. It's a practical choice given the high moisture environment. Moreover, it can withstand cooking splashes and still be easy to clean, all while providing a stylish backdrop.
Bathroom: The humid conditions in a bathroom are an open invitation for dampness and mould. Waterproof wallpaper can effectively combat these issues, offering a wide range of styles to turn your bathroom into a haven of relaxation.
Exterior Walls: Believe it or not, wallpaper for exterior walls do exist and the use of such wallpapers is not limited to the indoors. Some types are suitable for exterior walls, offering a unique, weather-resistant, and aesthetic solution for outdoor spaces.
Trendy Waterproof Wallpaper Designs for Your Home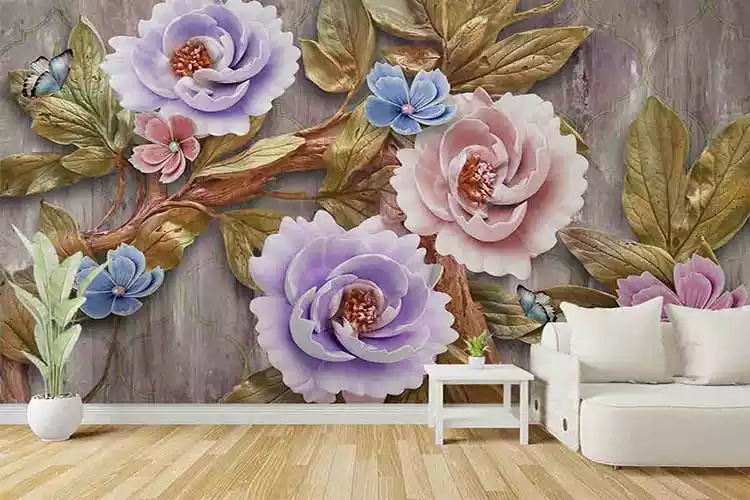 Geometric Patterns: Geometric patterns never go out of style. They add a contemporary vibe to any space and come in a variety of colours to match your decor.
Floral Prints: Floral wall coverings are a timeless classic. They can add a touch of nature and freshness to your room. From delicate floral patterns for a subtle touch to big, bold prints for a statement piece, the choices are endless.
Textured Wallpaper: Add depth and interest to your walls with textured waterproof wallpaper. From brick and stone effects to raised geometric patterns, textured wallpaper adds a unique touch to your interiors.
Metallic Wallpaper: Add a touch of luxe to your space with metallic wallpaper. These come in various designs and add a touch of glamour to any room.
Thematic Designs: Thematic designs, like nautical or botanical prints, are perfect for creating a specific atmosphere in a room. They can help establish a cohesive interior design theme.
Conclusion
Choosing wallpaper for your home is not just a practical move, but an aesthetic one too.There are many options such as customised wallpapers, 3D wallpapers etc. A good choice of wallpaper can combine style, versatility, and durability in one easy-to-install package, offering a fantastic solution for those wanting to keep their homes fresh and stylish without constant maintenance. So, why not take the plunge and consider installing waterproof wallpaper in your home today?
FAQs
Can waterproof wallpaper be used in a bathroom?
Absolutely! Waterproof wallpaper is ideal for use in bathrooms or any high-moisture areas in your home due to its moisture-repelling properties.
How long does waterproof wallpaper last?
With proper care and maintenance, waterproof wallpaper can last for several years. It is designed to withstand high-humidity environments, making it a durable option for both indoor and outdoor use.
Can you clean waterproof wallpaper?
Yes, waterproof wallpaper can be cleaned easily with a mild detergent and warm water. For tougher stains, a dry cleaning sponge can be used.
Is waterproof wallpaper expensive to install?
The cost of installation can vary depending on the type of wallpaper and the size of the area, but generally, it is considered a cost-effective home improvement solution compared to tiling or repainting.
Can I use waterproof wallpaper outdoors?
Yes, certain types of waterproof wallpapers are designed to withstand outdoor conditions. They are fade-resistant, weatherproof and can add a vibrant touch to your outdoor spaces.
Does waterproof wallpaper come in different designs and patterns?
Definitely! There are numerous designs and patterns available, ranging from abstract and geometric to floral and thematic designs, allowing you to choose the perfect look for your space.
What is the average price of waterproof wallpaper?
The price of waterproof wallpaper depends on the quality and size of wallpaper being installed. However, the average rate of waterproof wallpaper could be anywhere from ₹45/Sq ft to ₹ 100/Sq ft.